Congratulations to the Winners of our 2019 Young Soloist Competition!
From left to right with OMP Artistic Director Kelly Kuo: Sadie Wang (cello; 2nd-place Junior Division), Angela Rose Padula (cello; 1st-place Junior Division), Morgan Paige (soprano; 1st-place Senior Division), and Trinity Goff (piano; 2nd-place Senior Division).
All four winners have been awarded cash prizes through the Trudy Rumple Prizes. Angela Rose and Morgan will be appearing as soloists with OMP on our May 4 "Youthful Exuberance" concert.
Continue scrolling to meet our winners!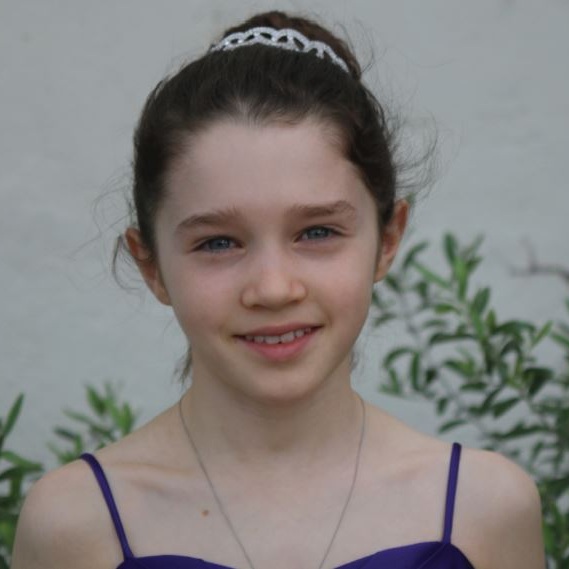 First Place - Junior Division: Angela Rose Padula, cello
Boccherini: Concerto in B-Flat Major, I. Allegro moderato
Angela Rose Padula is currently in the 6th grade at Trinity Academy in Portland, Oregon. She began playing cello at age 7. After moving to the Portland area this past summer, she began studying with Hamilton Cheifetz. Prior to this, Angela Rose studied with Andrew Cook at the Pasadena Conservatory of Music in Los Angeles, receiving highest scores on juries and performing in Honors recitals. With her first teacher, Alita Rhodes, Angela Rose received the highest score in the country for her level in the Royal Conservatory of Music assessment program, receiving a gold medal and performing in a Festival of Excellence at USC. Angela Rose has also played in a string trio with her brothers for 5 years, performing as an Honors Group with Junior Chamber Music of LA, and receiving second place in Classics Alive Competition. The trio also have a Celtic style fiddle band, Three for Joy.
Angela Rose is currently 12 years old and is a student of Hamilton Cheifetz.
Second Place - Junior Division: Sadie Wang, cello
Haydn: Cello Concerto No. 1 in C Major, III. Allegro molto
Sadie Wang is a fifth grader at Jacob Wismer Elementary School in Portland, Oregon. A student of Hyun-Jin Kim, Sadie began playing cello at age 8. After just over 9 months of learning cello, she received first place in the 2017 Oregon Cello Society Scholarship audition. Sadie has participated in a solo master class with Jeffrey Butler in June 2018 and she was selected for the live audition round of the MetroArts Inc. 25th Young Artists Debut Competition. Sadie is the First Place Winner of the 2018 American Protégé International Competition of Romantic Music and she will perform at Carnegie Hall in New York City on March 31, 2019.
Sadie joined the Portland Youth Philharmonic Young String Ensemble in 2017, and was selected as the Principal Cellist and a member of the PYP Young String Ensemble String Quartet. She is currently a member of Portland Youth Conservatory Orchestra.
Sadie is currently 11 years old and is a student of Hyun-Jin Kim.
First Place - Senior Division: Morgan Paige, soprano
Offenbach: "Les oiseaux dans la charmille"
Bernstein: "Glitter and Be Gay"
Morgan Paige is a senior vocal performance major at the University of Oregon. She is originally from Oak Park, California, and has been singing since she was a little girl. While she has always had a passion for performing and musical theater, she has discovered a new passion for opera and classical music in college. She has performed the role of Susanna in Le Nozze di Figaro with the UO Opera ensemble, and performed the role of Olympia in the UO Opera ensemble's production of Les contes d'Hoffmann this February. She has also performed in the Opera Zarzuela Scenes program last year in Beall Hall, at MarshAnne Landing Winery, and at the Oregon Bach Festival. She is a recent first-place winner in the Northwest Regional Round of the National Association of Teachers of Singing Competition. She is also a member of the UO Chamber Choir, and is eagerly anticipating the ensemble's upcoming trip to Sweden to participate in the International Choir Games; additionally, she is looking forward to participating in Musik Theater Bavaria in Germany this coming summer. In her free time, she enjoys playing the piano and composing, as well as learning to cook new recipes.
Morgan is currently 21 years old and is a student of Dr. Karen Esquivel.
Second Place - Senior Division: Trinity Goff, piano
Beethoven: Piano Concerto No. 5 - I. Allegro
Trinity Goff began piano lessons at the age of three and is currently studying under Dr. Jean-David Coen of Willamette University. Her most recent awards include second place at the Wiscarson Young Musicians' Concerto Competition, second place at the Donna and David Eason State Scholarship Competition, and first place in the Gibbens Family Scholarship Competition. She has been a winner in many OMTA State Festivals, and in 2017 she passed with distinction the highest level of OMTA Syllabus. In 2018, she attended the John Perry Academy of Music Summer Festival. Trinity has had masterclasses and lessons from renowned teachers John Perry, Sasha Starcevich, Gregg Pauley, and Andrew Park. Besides playing the piano, Trinity enjoys playing the organ, composing, reading, and watching baseball.
Trinity is currently 17 years old and is a student of Dr. Jean-David Coen.
A well-deserved round of applause to all our finalists for their fantastic performances in the competition!